Storyteller Susan
(Storyteller/Author/Coach/Director)
Susan has an interest in families and how they can remain strong in the face of adversity. After a time of being a single-parent she wondered, "What is the meaning of the term, quality time?"  She began a journey, which has become part of the answer to that question. She began diligently researching ways to improve family relations and  encouraging harmony to flourish in the homes.  Susan wishes to share some of the answers she has found with all families and friends of families. Her efforts have been culminated in the four "Family Enrichment Tools" she has developed for families to bring the teller into the home. These family experiences combine her experience with family literacy programs, where she was the resident storyteller twice on grants given to the Library System in her home county, with her love of reading inspirational and motivational books and her desire to constantly improve herself to serve others.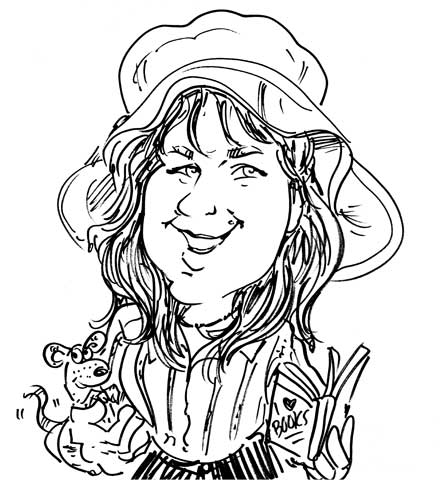 Susan became a storyteller in 1997. She is currently a member of the Florida Storytelling Association. In 2003-2004, she was the secretary of the Florida Storytelling Association. In 2002, Susan studied under Doug Lipman, a National Storytelling Coach, and applies those teachings in her workshops and online coaching for families.  She constantly pursues new ways to apply storytelling and in July 2008 traveled to Gatlinburg, TN to take part in the National Storytelling Workshop "Storytelling in Organizations".
Susan continues building more stories and programs to stretch and grow her talent and wisdom. Working in Storytelling as a presenter, has created a Storyhub® workshop called "The Broken Heart: The importance of Story." The program is motivational in nature and is a sharing of wisdom.  After all, that is what a storyteller is most about, sharing talent and wisdom so that all might benefit. Hope is a strong human emotion, it fills us up with positive actions which pull us through the worst of times. Hope is there when there is a storytelling in progress. Hope is lost if a community doesn't have that one treasure.
Susan continues to utilize her experience and training to produce new Storyhub® workshops for families and invites you and your family to take part in the journey she began. Join her very soon by taking part in "The Broken Hear: The Importance of Story." and "Parenting, and Harmony: A Storytelling" workshops.
Or purchase one of her "Family Story Time Experiences" and bring her spirit, talents, and wisdom into your home for a family experience full of fun for all.
Her family coaching philosophies come from a fervent belief that we all have the ability to learn new things and to find the best of creative genius right within ourselves if given the opportunity. She hopes to conquer the fears of young parents everywhere and allow them the freedom to enjoy their parenthood.  Her love of children is nurtured today by children's smiles everywhere she tells stories. A laugh from an adult is just as precious for her as if it had been the laughter of a child. It is the laugh which signifies she has reached that adult's child within. The laugh, which has touched a core of memory, which has elicited that delightful sound of a release of tension and letting go back into the past of a pleasant time. To release such tension is often a healing experience. Why do parent's use bed time stories? Susan knows why!  Why should parent's use stories to teach, to instruct and to lead their children away from trouble? Stories connect; they don't disconnect two individuals. Anger, and heated vulgar words, disconnect and then trust is hard to reestablish in any relationship.